T2029 – Henschel 6J2 Pritsche   (TT 1:120) 

T2030 – Henschel 6J2 Pritsche mit Plane   (TT 1:120) 

T2009 – Anhänger Pritsche   (TT 1:120) 

T2010 – Anhänger Pritsche mit Plane   (TT 1:120) 

T2529 – SET Pritschen-Lastzug (T2029 + T2009)   (TT 1:120) 

T2530 – SET Pritsche Plane-Lastzug (T2030 + T2010)   (TT 1:120) 
ℹ️ Download instructions (pdf)        | to 1/144 scale kits | to N 1:160 kits
---
Henschel 6J2 flatbed (Era II)
The Henschel Typ 6J was produced between 1934 and 1941. These 125 hp machines are easily recognized by the toolboxes between the bumper and the fenders. The Henschel and accompanying trailer are available as single parts as well as SET. The models are available with flatbed body or with flatbed and tarpaulin.
Models are delivered unpainted. Before painting, the model needs to be cleaned.
Henschel 6J2 Pritsche (Epoche II)
Der Henschel Typ 6J wurde 1934 bis 1941 gebaut. Dieser 125 PS starke LKW erkennt man sofort an den länglichen Kästen zwischen der Stoßstange und den Kotflügeln. Der Henschel und beipassender Anhänger sind als Einzelteile sowie als SET lieferbar. Die Modelle sind erhältlich mit Pritsche-Aufbau oder mit Pritsche und Plane.
Modelle werden unlackiert geliefert. Vor dem Lackieren muss das Modell gereinigt werden.
Henschel 6J2 camion rail-route (Epoque II)
La Henschel Typ 6J a été produite entre 1934 et 1941. Ces machines de 125 ch sont facilement reconnaissables par les boîtes à outils entre le pare-chocs et les ailes. Le Henschel et la remorque d'accompagnement sont disponibles en tant que pièces simples ainsi que SET. Les modèles sont disponibles avec le corps plat ou avec le plat et la bâche.
Les modèles sont livrés non peints. Avant de peinture, il est nécessaire de nettoyer le modèle.
Henschel 6J2 open laadbak (Tijdperk II)
De Henschel Typ 6J werd geproduceerd tussen 1934 en 1941. Deze 125 pk sterke machines zijn gemakkelijk te herkennen aan de kisten tussen de bumper en de spatborden. De Henschel en bijpassende aanhanger zijn leverbaar als separate modellen of als SET. De modellen zijn leverbaar met een open laadbak als ook met huif.
Modellen worden ongelakt geleverd. Voor het verven dient het model gereinigd te worden.
---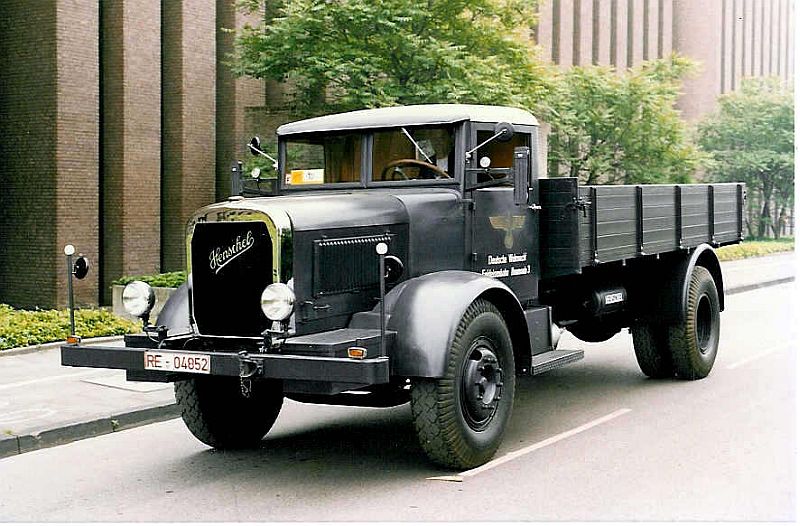 Photo: Baumaschinenbilder.de
---
Not suitable for children under the age of 14.
Nicht geeignet für Kinder unter 14 Jahren.
Ne convient pas aux enfants de moins de 14 ans.
Niet geschikt voor kinderen onder 14 jaar.