N2061D – Bergmann 2t Reichspost + Decals  (N 1:160)

N2061 – Bergmann 2t Reichspost (N 1:160)

N2561 – SET 2x Bergmann 2t Reichspost (N 1:160)

T2061 – Bergmann 2t Reichspost (TT 1:120)
ℹ️ Download instructions (pdf)
ℹ️ Download decals N 1:160 (pdf)
---
Bergmann 2t electric lorry (Era II)
The Bergmann 2t electric lorry proves that electric drive is nothing new. Bergmann produced several types of such trucks since 1911. The production of the Bergmann 2t started around 1931. It is equipped with a 14 hp motor that drives the rear axle via chains. The top speed is 30 km/h which isn't particulary quick. But then again other trucks from this era didn't go much faster.
The German Reichspost was a big customer of the electric lorries and possessed over 2,600 of them! Due to the reliable power train the Bergmann lorries were still in use in the 1950s.
Several different kits are available. The kits are unpainted.
Please remember to clean the Shapeways printed models before painting. It is advised to use a primer first.
Bergmann 2t Elektrolaster (Epoche II)
Dass Elektroantrieb nichts Neues ist, beweist der Bergmann 2t Elektrolaster. Bergmann stellte seit 1911 verschiedene Typen solcher Lastwagen her. Die Produktion des Bergmann 2t begann um 1931. Er ist mit einem 14-PS-Motor ausgestattet, der die Hinterachse über Ketten antreibt. Die Höchstgeschwindigkeit beträgt 30 km/h, was nicht besonders schnell ist. Aber auch andere Lastwagen aus dieser Epoche fuhren nicht viel schneller.
Die Deutsche Reichspost war ein großer Kunde der Elektrofahrzeuge und besaß über 2.600 davon! Aufgrund des zuverlässigen Antriebs waren die Bergmann-Lkw noch in den 1950er Jahren im Einsatz.
Es sind verschiedene Kits erhältlich. Die Kits sind unbemalt.
Vergessen Sie nicht, die von Shapeways gedruckte Modelle vor dem Lackieren zu reinigen. Es empfiehlt sich, zuerst eine Grundierung zu verwenden.
Bergmann 2t Camion électrique (Époque II)
Le camion électrique Bergmann 2t prouve que la propulsion électrique n'est pas nouvelle. Bergmann a fabriqué plusieurs types de ces camions depuis 1911. La production du Bergmann 2t a débuté vers 1931. Il est équipé d'un moteur de 14 CV qui entraîne l'essieu arrière via des chaînes. La vitesse maximale est de 30 km/h, ce qui n'est pas particulièrement rapide. Mais là encore, les autres camions de cette époque ne sont pas allés beaucoup plus vite.
L'Allemand Reichspost était un gros client des camions électriques et en possédait plus de 2600! En raison de la fiabilité de la chaîne cinématique, les camions Bergmann étaient encore utilisés dans les années 1950.
Plusieurs kits différents sont disponibles. Les kits ne sont pas peints.
N'oubliez pas de nettoyer les modèles par Shapeways avant de peindre. Il est conseillé d'utiliser un apprêt en premier.
Bergmann 2t elektrische vrachtwagen (Tijdperk II)
De Bergmann 2t elektrische vrachtwagen bewijst dat elektrisch rijden niets nieuws is. Bergmann produceerde sinds 1911 verschillende soorten van dergelijke vrachtwagens. De productie van de Bergmann 2t begon rond 1931. Hij is uitgerust met een 14 pk motor die de achteras via kettingen aandrijft. De topsnelheid is 30 km/u, wat niet bepaald snel is. Maar andere vrachtwagens uit dit tijdperk gingen niet veel sneller.
De Duitse Reichspost was een grote klant van de elektrische vrachtwagens en bezat er meer dan 2.600 van! Vanwege de betrouwbare aandrijflijn waren de Bergmann vrachtwagens in de jaren vijftig nog in gebruik.
Er zijn verschillende sets beschikbaar. De kits zijn ongeverfd.
Vergeet niet om de door Shapeways geprinte modellen schoon te maken voordat u gaat schilderen. Het wordt aangeraden eerst een primer te gebruiken.
---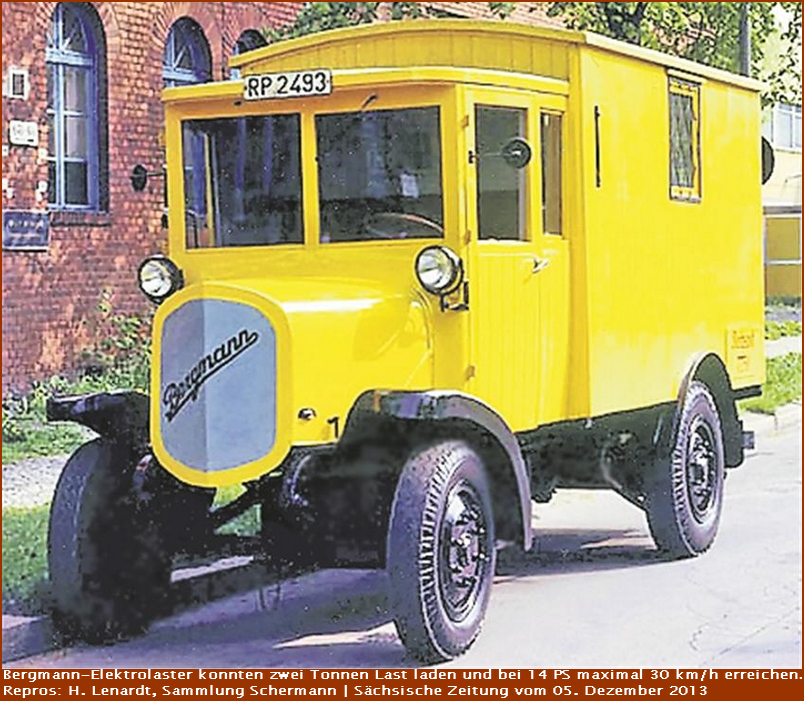 Photo: Deichspiegel
---
Niet geschikt voor kinderen onder 14 jaar.
Nicht geeignet für Kinder unter 14 Jahren.
Not suitable for children under the age of 14.
Ne convient pas aux enfants de moins de 14 ans.