N3006 – Notrufsäule   (N 1:160) 

T3006 – Notrufsäule   (TT 1:120) 
⬇️ Download decals (jpg) (in .svg format on request)
---
Emergency call box (Era IV-VI)
Since the 70s of the last century, the "Iron Guardians" can be found on streets and buildings in Germany. The devices were used to connect to the police with the emergency call 110 and were set up in public areas on federal and state roads and not permanently manned police stations. Model is delivered unpainted.
Before painting, the model needs to be cleaned.
Notrufsäule (Epoche IV-VI)
Seit den 70er Jahren des letzten Jahrhunderts sind die "Eisernen Schutzmänner" an Straßen und Gebäuden zu finden. Die Geräte dienten der Verbindungsaufnahme zur Polizei mit dem Notruf 110 und wurden im öffentlichen Verkehrsraum an Bundes- und Landesstraßen sowie an nicht ständig besetzten Polizeidienststellen aufgestellt. Modell wird unlackiert geliefert.
Vor dem Lackieren muss das Modell gereinigt werden.
Boîte d'appel d'urgence (Epoque IV-VI)
Depuis les années 70 du siècle dernier, les "Eisernen Schutzmänner" peuvent être trouvés dans les rues et les bâtiments en Allemagne. Les dispositifs ont été utilisés pour se connecter à la police avec l'appel d'urgence 110 et ont été mis en place dans les zones publiques sur les routes fédérales et d'état et pas les postes de police habités de façon permanente. Le modèle est livré non peint.
Avant de peinture, il est nécessaire de nettoyer le modèle.
Noodroepzuil (Tijdperk IV-VI)
Sinds de jaren '70 van de vorige eeuw zijn de "Eisernen Schutzmänner" te vinden op Duitse straten en gebouwen. De apparaten werden gebruikt om verbinding te maken met de politie met de noodoproep tel. 110 en werden opgezet in het openbare ruimte op federale en provinciale wegen en niet permanent bemande politiebureaus. Model wordt ongelakt geleverd.
Voor het verven dient het model gereinigd te worden.
---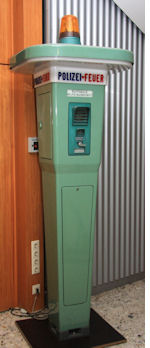 Photo: Rettungsdienst
---
Not suitable for children under the age of 14.
Nicht geeignet für Kinder unter 14 Jahren.
Ne convient pas aux enfants de moins de 14 ans.
Niet geschikt voor kinderen onder 14 jaar.