N2370 – MB Trac 1300   (N 1:160)

N2868 – SET MB Trac & Joskin Modulo2   (N 1:160)  

N2869 – SET MB Trac & Anhänger   (N 1:160)
T2370 – MB Trac 1300   (TT 1:120) 

T2868 – SET MB Trac & Joskin Modulo2   (TT 1:120) 
ℹ️ Download instructions (pdf)
⬇️ Download do-it-yourself decals MB Trac 1300 (jpg) (in .svg format on request)
⬇️ Download do-it-yourself decals Joskin Modulo2 (jpg) (in .svg format on request)
---
MB Trac 1300 (Era IV-V)
The MB Trac 1300 was manufactured between 1976 and 1991. The MB Trac was mainly used in agriculture. Furthermore, these tractors were also used in forestry and in municipalities and construction companies. The model consists of multiple unpainted parts.
There are also sets available with slurry tankers or open trailers. Before painting, the model needs to be cleaned.
MB Trac 1300 (Epoche IV-V)
Der MB Trac 1300 wurde zwischen 1976 und 1991 hergestellt. Der MB Trac wurde hauptsächlich in der Landwirtschaft eingesetzt. Weiter waren diese Schlepper auch in der Forstwirtschaft vorzufinden sowie bei Kommunen und in Bauunternehmen. Das Modell besteht aus verschiedene unlackierten Teile.
Es gibt auch Sets mit Güllewagen oder offenen Anhänger. Vor dem Lackieren muss das Modell gereinigt werden.
MB Trac 1300 (Epoque IV-V)
Le MB Trac 1300 a été fabriqué entre 1976 et 1991. Le MB Trac était principalement utilisé en agriculture. De plus, ces tracteurs étaient également utilisés en foresterie et dans les municipalités et les entreprises de construction. Le modèle est composé de plusieurs parties non peintes.
Il existe également des ensembles disponibles avec des tonnes à lisier ou des remorques ouvertes. Avant de peinture, il est nécessaire de nettoyer le modèle.
MB Trac 1300 (Tijdperk IV-V)
De MB Trac 1300 werd geproduceerd tussen 1976 en 1991. De MB Trac werd voornamelijk gebruikt in de landbouw. Tevens werden deze trekkers ook gebruikt in de bosbouw, bij gemeenten en bouwbedrijven. Het model bestaat uit meerdere ongeverfde delen.
Er zijn ook sets beschikbaar met giertanks of open aanhangwagens. Voor het verven dient het model gereinigd te worden.
---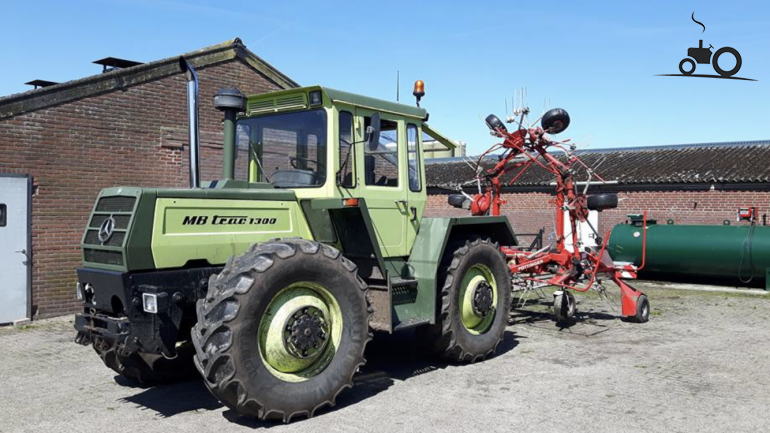 Photo: Tractorfan
---
Not suitable for children under the age of 14.
Nicht geeignet für Kinder unter 14 Jahren.
Ne convient pas aux enfants de moins de 14 ans.
Niet geschikt voor kinderen onder 14 jaar.