N3044 – 3 Kleinbehälter Gattung Bd   (N 1:160)

N3544 – 6 Kleinbehälter Gattung Ad, Bd, Cd    (N 1 :160)

T3544 – 6 Kleinbehälter Gattung Ad, Bd, Cd    (TT 1:120)
ℹ️ Link to instructions
⬇️ Download decals N 1:160 (jpg)
---
Small containers – Now also available at DM-Toys and also in TT-scale!
These containers are used to transport all sorts of small cargo; they are equipped with special devices to facilitate the locomotion. From 1931 there is the so-called small containers with a capacity 1-3 m³. Approximately 12,000 small containers were in use. These containers were in use up to 1983. The models are richly detailed and are supplied unpainted. Before painting, the model needs to be cleaned.

Kleinbehälter – Jetzt auch bei DM-Toys und auch im TT-Maßstab erhältlich!
Behälter dienen der Zusammenfassung und Beförderung einer Gutmenge; sie sind mit besonderen Vorrichtungen zur Erleichterung der Fortbewegung ausgerüstet. Ab 1931 gibt es die sogenannte Kleinbehälter mit einem Fassungsraum von 1 bis 3 m³. Etwa 12.000 Kleinbehälter waren im Einsatz. Diese Container wurden bis etwa 1983 verwendet.
Die Modelle sind reich detailliert und werden unlackiert geliefert. Vor dem Lackieren muss das Modell gereinigt werden.
Les petits conteneurs – Maintenant aussi disponible chez DM-Toys et aussi en TT!
Ces conteneurs sont utilisés pour transporter toutes sortes de petites marchandises; ils sont équipés de dispositifs spéciaux pour faciliter la locomotion. De 1931 il ya ce qu'on appelle les petits conteneurs avec une capacité 1-3 m³. Environ 12 000 petits récipients étaient en usage. Ces conteneurs étaient en usage jusqu'en 1983. Les modèles sont richement détaillé et sont fournis non peinte. Avant de peinture, le modèle doit être nettoyé.

Kleine containers – Nu ook verkrijgbaar bij DM-Toys en ook in TT-schaal!
Deze containers worden gebruikt om een kleine goederen te verpakken, en ze zijn voorzien van een rollend onderstel. Vanaf 1931 zijn er de zogenaamde kleine containers met een inhoud 1-3 m³. Circa 12.000 van deze containers waren in omloop. Deze containers waren tot circa 1983 in gebruik. De modellen zijn rijk gedetailleerd en worden onbeschilderd geleverd. Voor het verven dient het model gereinigd te worden.

---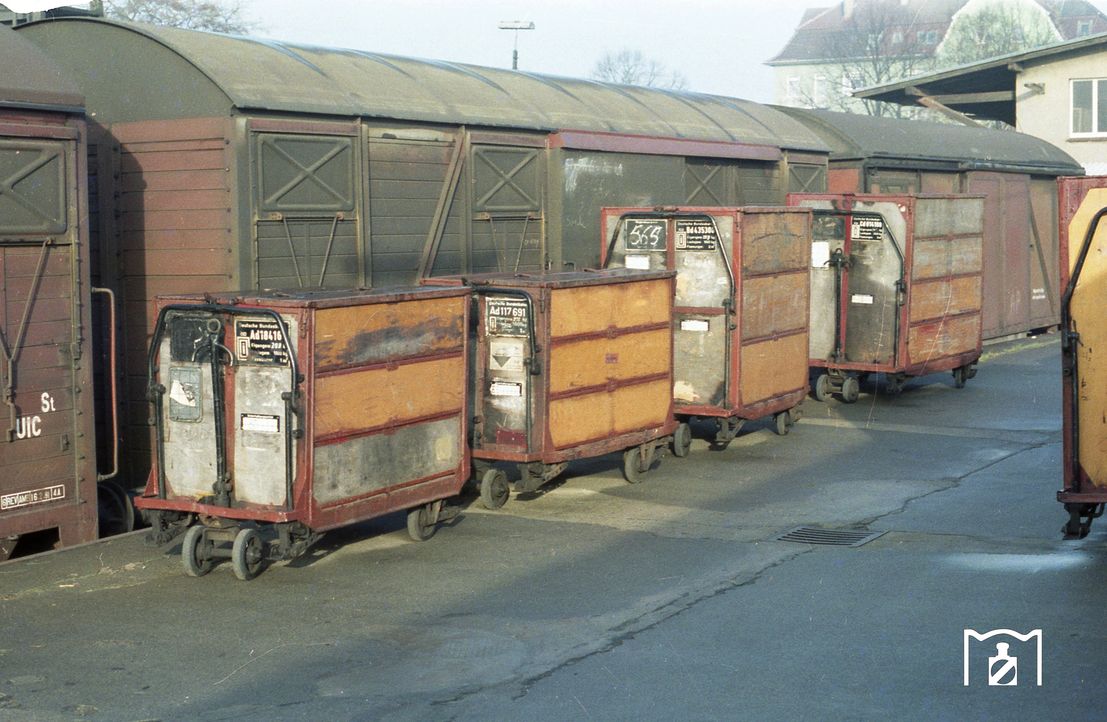 Foto: http://www.eisenbahnstiftung.de
---
Niet geschikt voor kinderen onder 14 jaar.
Nicht geeignet für Kinder unter 14 Jahren.
Not suitable for children under the age of 14.
Ne convient pas aux enfants de moins de 14 ans.